Welcome to Sophy's Upholstery
Here we specialize in all types of furniture re-upholstery and restoration.
You can bring your antique sofas etc. and have them resotered to brand new or better
than new condition. Choose your own style from a wide selection of fabrics. Have your
furniture customized how you like it.
Contact us today for a free quote on your project.
All Estimates Are Free!!
We work with all residential and commercial reupholstery needs.
If you're looking for beautiful and professionally made slipcovers then you have come to the right place.
We don't just deal with furniture but also with vehicle upholstery. Bring you car to us to have a complete seat makeover. Customize your ride the way you want it too look. We specialize in all types of vehicles (cars, vans, boats, planes, etc.) for private owners and business owners who want a distinct customized look.
We also specialize in wood refining and plastic slip covers. Keep your great looking furniture clean and brand new with our custom made slip covers. Don't let wooden furniture fade and grow old. Try our wood refining techniques to keep your furniture fresh.
Have a custom restaurant that needs chairs, booths etc. to have an unique look. Come to us to have your restaurant match your vision.

Contact Us now to have an estimate done for you on site.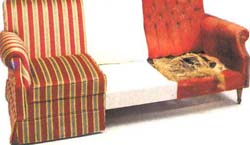 Se Habla Espanol
|
Free Estimates
|
Queens, New York